Institutions and Projects - Sri Sathya Sai Temple of Healing
Sri Sathya Sai Institute of Higher Medical Sciences
by Dr. A.N. Safaya, Director Sri Sathya Sai Institute of Higher Medical Sciences,
Prashanthi Nilayam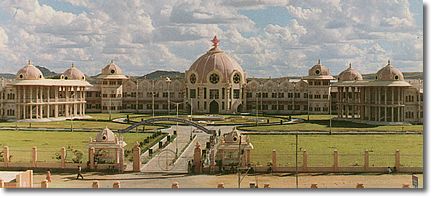 During the last two decades, medical science and technology has advanced so much and so fast that health services in every country, more so in developing countries, have been put under great strain. India is no exception to this and the last few years have witnessed a phenomenal multiplication of centres, professing advanced medicine, both in public and private sectors. While the facilities might have increased, the prohibitive cost of many of the advanced procedures like heart, kidney and brain surgery has made many of these life-saving measures out of reach of the common man, particularly in rural areas. Location of the centres of advanced medicine in the cities has also made them logistically inaccessible to the vast rural population. This unfortunate situation has prompted Bhagavan Sri Sathya Sai Baba to establish a Super Speciality Hospital at Puttaparthi, a small village in Andhra Pradesh with the sole purpose of making available the advanced techniques of diagnosis and medical care, totally free of cost, to all the needy people without any geographical restrictions, to the rich and the poor alike, irrespective of religion, caste, creed and country.
Objectives of the Hospital
In November 1999, the Sri Sathya Sai Institute of Higher Medical Sciences will become exactly six years old - to be precise, the Departments of Cardiology and Cardiothoracic Surgery will become six years old, since these departments started functioning at that time. It was 9 o'clock in the morning of 22nd November, 1991 that the knife of the surgeon of this Institute touched the skin of the first patient Sri Vijayabhaskar K. B., aged 14 years, of Anantapur, and the work of the hospital started with full speed. Since then there has been no looking back. With the blessings of Bhagavan Sri Sathya Sai Baba, the hospital has grown since then by leaps and bounds in its efficiency of patient handling capability as well as in its ability to give high quality professional care to its patients belonging to underprivileged members of the society.
In this regard, Bhagavan's declaration on 23 November 1990 for establishing the Hospital is of immense significance. He declared:
"When any educational or medical institution is established, the sole aim is to make a business out of it. There are only a few who are ready to set up institutions to provide free facilities for the poor. Therefore, from the start we decided to set up a hundred crore hospital near Prasanthi Nilayam. Even as higher education is free here, "higher medicine" also will be free. People spend lakhs of rupees to get heart surgery done in the U.S. What is the plight of the poor? Who looks after them? If they go to the cities, they will not get even basic medicine. Recognising this fact, we have launched this big hospital project. Whether it is heart bypass operation or a kidney transplant or a lung operation or brain surgery or eye surgery, everything will be done free. This has been decided upon from the very start of the project. The hospital will be opened on 22nd November, 1991."
Elaborating on the objectives of the hospital, Bhagavan said in His Discourse of 23rd November 1991:
Puttaparthi has become the cynosure of all eyes in the world. Above all, you should enquire why a highly sophisticated and most modern hospital, which should be located in a well-developed metropolis has been set up in this rural area. The wealthy can go anywhere and get medical relief with their abundant resources. But the rural poor cannot go far from their villages for treatment. It is for the sake of such poor folk that this hospital has been established. This is a gigantic project. It is intended to benefit people for a thousand years. This hospital has been set up to provide relief to villagers suffering from ailments. No distinction is made, however, between villages and cities. Diseases do not afflict only villagers. Sickness makes no territorial distinctions. Likewise, there will be no differentiation in providing relief. Our intention is to provide relief to all who come, without any charges whatsoever."
Hospital's Role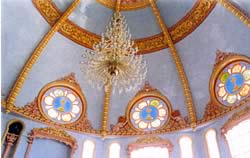 There is no ambiguity or illusion about the symbolic role that this hospital has to play in the world affairs of tomorrow. A single hospital of this size cannot lay claim that it will treat and cure all diseases of all patients of heart, kidney and eye in the world. The work it will do is a drop in the ocean, but it will serve as a working model for making available complicated medical technology free of charge to the deserving patients, who cannot otherwise afford it. It is a reduplicatable model that can be started anywhere and in any society, on the threshold of determination, unity of thought, word and deed. A very small fraction of money that goes in manufacturing the weapons of human destructions in the form of defence budget of even the poorest country can raise funds for many such hospitals to be built and to be functional for constructive purposes. Emerging as a bright star at the horizon of the contemporary world medical affairs, the experiment in launching Sri Sathya Sai Institute of Higher Medical Sciences has certain clear messages to give for shaping the policies for the delivery of medical help to the humanity. These are:
Globalisation of Medicine: To get proper relief from any Medical Institution should be the very birthright of any diseased person irrespective of distinction of country, religion, colour or ideology on a global basis.
Decommercialisation of Medicine: The art of healing and giving medical relief to the deserving patients should not be priced and should not be sold in the market as a commodity. The cost of providing such a medical care should be absorbed by the human society itself.
Human Values in Medical Care: The human agents of the delivery system of health care, be it the health administrators, doctors, nurses or technicians, they all should be perfectly 'human' in thinking, in word and deed. They should in actual practice demonstrate the use of five principles of Human Values - Sathya, Dharma, Santhi, Prema and Ahimsa. After all, it is the human being behind who is diseased that matters.
Spiritual Well-being as a Medical Concept: Present-day medicine stops at laying down health practices and policies to provide physical, mental and psychological health of the individual. It makes little or no attempt at strengthening the Spirit of man which is the divine force in him that energises his physical, mental or psychological systems. Modern medicine has lost its inherent and intrinsic proximity to spirituality. Unless that proximity is restored, medicine or health care will never be holistic and fully satisfying.
Divine Will and Human Effort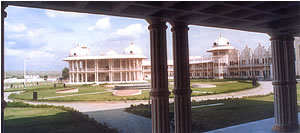 The idea of providing the best diagnostic and therapeutic facilities of modern medicine to the undeserved population in a rural part of India, all free of charge and within the time-frame of a year, would be considered an impossible undertaking by any government or private organisation. Yet, this is exactly what was proposed in November 1990 by Bhagavan Sri Sathya Sai Baba when He declared that starting from scratch on a previously undeveloped site, a new building would be erected, staffed and equipped so that the first operations in open heart surgery could be carried out one year later.
The story of how human effort was able to execute the Divine Will is a remarkable one. The impressive building rose miraculously within a six-month period, and stands as a magnificent temple of healing. Its inspiring architecture imparts an aura of divinity and peace to all who enter the hospital for investigation or treatment and to those who work there. As declared by Bhagavan, the first cardiothoracic operations were carried out successfully exactly after one year. The Super Speciality Hospital was inaugurated by the then Prime Minister of India on 22nd November 1991.
This hospital is also a living monument to faith in Human Values, and demonstrates compassionate loving care and selfless service in an age where high cost specialised medicine is beyond the reach of the great majority of the world's population. A well-coordinated international effort has made it possible to have the most modern equipment and to be staffed by highly qualified and dedicated surgeons, physicians, nurses, other health care practitioners and technicians.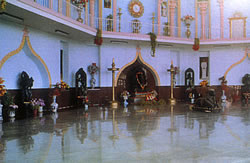 The hospital's development and expansion have continued since its inauguration. The Departments of Cardiology and Cardiothoracic Surgery, with all the necessary ancillary and support services, have been functioning since November 1991. A year later, in November 1992, the Uro-nephrology Department was commissioned and the unit for kidney transplantation was inaugurated a year after that. In November 1994, a Super Speciality Department of Ophthalmology was inaugurated. A Lithotripsy Centre for breaking the stones in urinary tract with the use of high energy waves was inaugurated by Bhagavan Sri Sathya Sai Baba on July 15, 1999 and is functional now.
The message of Bhagavan Sri Sathya Sai Baba by establishing this hospital is quite loud and clear that the healing arts and treatment of suffering mankind should not be exploited for making profit.
Source: Sanathana Sarathi, Special Issue, November 1999, published by Sri Sathya Sai Books and Publications Trust