Facets of Divine Construction - Hanuman Statue
by Col. S.K. Bose (Rtd.) Trust Engineer
An imposing 65-ft giant statue of Sri Hanuman specially designed and built on the hill (to mark Baba's 65th birthday) arrests the attention of all visitors to Puttaparthi. No one can miss seeing it, because it is built at an elevation of approximately 150 ft. on the hill.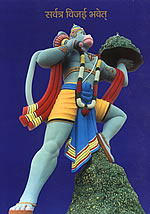 Installed on a 6-ft. concrete pedestal, Sri Hanuman comes alive with his ready-to-take-off pose, holding the Sanjeevi hill on his left hand palm and Gadha resting on his right shoulder, his head with the crown held high, beaming an air of confidence and hope.
The body of Sri Hanuman is made out of composite steel and a concrete construction.
As Prashanthi Nilayam is located on a hilly surrounding and devoid of a waterfall, the Trustees of Sai Baba decided to create an artificial cascade. The foot of Sri Hanuman was chosen as the site for the origin of the waterfall. A water tank with pump house was constructed at the foot of the hill. From this tank, water is pumped 32 m high to the foot of the Hanuman statue and supplied through six spray nozzles, spreading the water over a width of 12 m. With the help of two artificial spillways at different levels, a smooth sheet of water cascades down the hill like a real waterfall. The spilled water is collected in the bottom storage tank and re-circulated to the spillway.