Facets of Divine Construction - Boys Hostel
by Col. S.K. Bose (Rtd.) Trust Engineer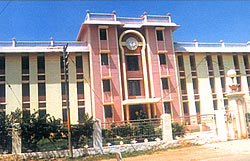 Sri Sathya Sai Institute of Higher Learning, founded by Bhagawan Sri Sathya Sai Baba, was inaugurated on November 22, 1981. It is an autonomous body accredited to and recognised as a Deemed University by the Ministry of Government of India and the University Grants Commission as in the case of the Indian Institute of Science, Bangalore, the Birla Institute of Science and Technology, Pilani, and the Tata Institute of Social Sciences, Bombay. Since April 1986, the Sri Sathya Sai Institute of Higher Learning has been a regular member of the Association of Indian Universities.
The Institute is a non-profit independent institution, having three separate campuses at present. Its two campuses for men are at Prashanthi Nilayam in Andhra Pradesh, and at Brindavan near Whitefield railway station at Bangalore in Karnataka. The third campus, for women, is located at Anantapur in Andhra Pradesh. The Institute can also with the concurrence of the appropriate authorities and the prior approval of the Government of India, establish or take over campuses in any part of the country.
The Institute believes in spontaneous national integration and hence has an open admission policy purely based on merit, encouraging enrolment of boys and girls irrespective of income, class, creed, religion or region. At present over sixty percent of its students are from places other than Andhra Pradesh and Karnataka.
The Boys hostel is a three-storied structure (ground + two) having a total built-up area of 4,520 m2. It consists of 64 rooms, each having an area of 22 m2; the building includes a large prayer hall, dining and kitchen facilities and is meant for students studying at Prashanthi Nilayam.